Blog
MOVments: Out with the Old, In with the (Sort of) New
Posted by:

Anna Wilkinson

on

July 10, 2012 / 11:43 AM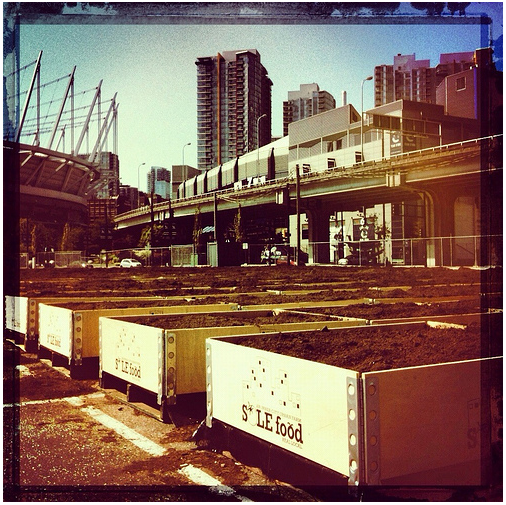 Vancouver is changing and growing so fast that, as Gordon Price reports, its newest neighbourhood doesn't even have a name yet. But if we look closely, we can see that a lot of our old ideas and landscapes are actually being repurposed, redesigned, and redefined. This week's MOVments explores the ways Vancouverites are reusing old spaces, re-imagining affordable housing and urban planning, and putting a new spin on a time-honored tradition: the business lunch.
Redefining Growth. Much to our delight, SOLEfood, Vancouver's largest urban farm, has outgrown its first home in a parking lot on East Hastings. Using a social enterprise model and employing over 20 people from the Downtown Eastside, the urban farm just opened its second location under the Georgia Street viaduct. As The Tyee explains much of SOLEfood's success has come from from garnering community support; the farm has received multiple grants, help from local business owners, and a free three-year lease for its new spot on Pacific Boulevard.
Video Stores Live.  With the demise of big-chain stores like Blockbuster and Rogers, They Live (formerly Cinephile) is one of a handful of independent video rental shops in Vancouver that is still making a go of it in an increasingly Internet-dominated business. Like Black Dog and Limelight Video, They Live is filling a niche, catering to those who are searching for hard to find titles and a little personal interaction. And as with other local businesses and art spaces, diversification is the name of the game; They Live will also be offering live music and film screenings.
Rethinking Homelessness. In the midst of so much change, UN representative Miloon Kothari says one thing has stayed pretty much the same since his last visit to Vancouver in 2007: the city's affordable housing crisis. In his interview with The Tyee, Kothari gave a sobering account of the crisis, which he says is caused in part by too much emphasis on market solutions. He suggests that it's time to completely re-frame the housing issue: "What you see in Canada and what you see in the United States is that housing is seen as a commodity and not as a social good. If it's treated as a social good, then the whole thinking will change."
Shifting Planning Policy. Judging from our situation in Vancouver, it looks like the new generation of Canadian urban planners have quite a task ahead of them. This fascinating Globe and Mail article explores the shifts currently taking place in urban planning policy and power assignment. While cities across the country face diverse challenges, Vancouver's former co-planning director, Larry Beasley, is excited at the prospect of a new generation of Canadian urban planners taking on roles as visionaries and risk takers.
The Evolution of Lunch. And finally, on a lighter note: the Vancouver Public Space Network and Space2Place are co-hosting communal outdoor lunches every Thursday this month. Long cafeteria tables, food specials from local vendors, and musical entertainment are making Abbott Street the place to be for an afternoon meal, whether you work in the area or not.
At the MOVeum:
August 18 - MEMBERS ONLY Art Deco Chic: Talk & Tour with Ivan Sayers
[New SOLEfood location on Pacific Boulevard. Photo by David Niddrie]