Blog
MOVments: Growing Up Fast
Posted by:

Anna Wilkinson

on

July 24, 2012 / 1:21 PM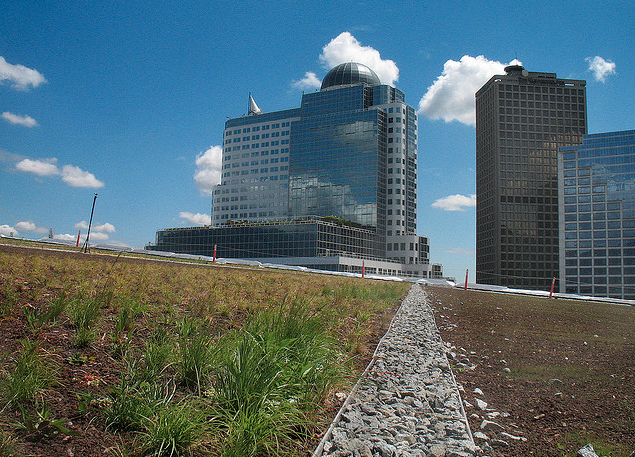 We here at the MOV just discovered that Vancouver has two of the 10 largest green roofs in the world. 
This article
 on the history and logistics of green rooftops got us thinking more broadly about our tendency towards stacking, extending, and expanding in the city. From condo culture to mall expansions, this week we're exploring the direction of growth in Vancouver, and more often than not, we're looking up, way up. 
Living in Isolation.
 It seems like we can hardly get through an instalment of MOVments without running up against the ever-present density debate. This week, Gordon Price's blog featured a 
fascinating segment of Walrus TV
 which compares contemporary condominium developments to what Northrope Frye described as the "garrison mentality" of isolated, early Canadian pioneer settlements. Necessary viewing for anyone interested in the cultural challenges of condo living.   
Rethinking Affordable Housing. 
The winners of the City's re:THINK Housing competition will be announced next week
 on July 30. The competition was designed to bring the general public together with architects, planners, and non-profits to discuss bold, creative, affordable housing solutions in Vancouver. With any luck, there will also be some ideas around how to combat the isolating effects of high-rise developments.
Growing Pains. 
There are some who think that crowd-sourcing won't be enough, and that Vancouver is at a planning turning point, in need of drastic (and de-politicized) change. Lance Berelowitz asks some tough but timely questions in 
this opinion piece
 about the direction of the City's planning strategies. As he says, "The city needs a forward-looking, comprehensive plan. We need to come to grips with what kind of city we want to be; with chronic housing unaffordability; with a city of increasing haves and have nots; with transit underfunding and transportation conflicts; with the challenges of intensifying our land uses and densifying our limited residential land base..." Definitely food for thought.
Mall City.
 Already one of the most successful shopping centres in Canada, Oakridge Mall at Cambie and 41st is set to expand upward 
and 
outward. A proposal has been made to 
develop the mall into a small city
, complete with parks and community bike paths. Defying the trend of declining sales at American malls, Oakridge, with customers streaming in via the Canada Line, seems to be uniquely positioned to take on such a project. 
Stacking It. 
And finally, have you ever wondered about the story behind the towers of books and chaotic floor plan at MacLeod's Books? 
This profile on owner Don Stewart
 is a fantastic read. 
[Image: Green Roof at the Vancouver Convention Centre. Photo by 
Harry2010
]