Blog
MOVments: Monstrous Bridges, Beastly Public Art, and Scary Economics
Posted by:

Anna Wilkinson

on

January 14, 2013 / 12:11 PM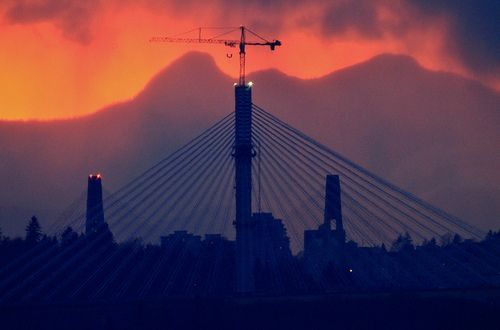 Happy 2013, MOVers! We hope you all had a warm, cozy, and cheerful holiday season ... because that's all about to come to an end. The new year has us confronting a monster (bridge), a bizarre beast (in the form of a poodle sculpture on Main), and the demise of an East Van cultural space (R.I.P. Waldy). Not to mention the economic fallout from the end of the NHL lockout and fears surrounding a new megapub in the Olympic Village. But don't be frightened, gentle readers: on the flip side of these changes and challenges there are opportunities for innovation, evolution, and what we can only hope will be constructive dialogue.
Poodle Party.
A new seven-foot poodle sculpture at Main and 18th is causing a little bit of controversy.
As the Vancouver Observer reports
, at least one resident is confused about how the public art piece, which was sponsored by the city and TransLink, is meant to represent the neighbourhood. Martin Stoakes complains that "Instead of hiring an artist from the neighbourhood, they hired an artist from Montreal who after walking up and down the street decided a poodle was the best reflection of the community." Check it out in front of the new Shopper's Drug Mart and decide for yourself. 
Is Hockey Bad for Business?
Don Cayo at the Vancouver Sun says yes
. He explains that the end of the NHL lockout may actually have a negative impact (albeit slight) on the city's economy: "The reason is, when you think about it, pretty obvious. When people can't spend their money on pricey sports tickets, they spend it on other stuff instead." And a large portion of the money going towards those pricey tickets is ending up with players and owners who are less likely to spend it in the city right away. So go ahead and get excited for the return of hockey, just don't get
that
excited.
Trouble Brewing.
Lastly, some residents of the Olympic Village are protesting the opening of the CRAFT Beer Market in the Salt Building,
claiming that it will devalue real estate in the area
. Worries range from traffic congestion to increased night-time noise and rowdiness. We're hoping that if the project goes through, "rowdiness" will translate into "liveliness" or - even better - "vibrant nightlife." 
At the MOVeum: