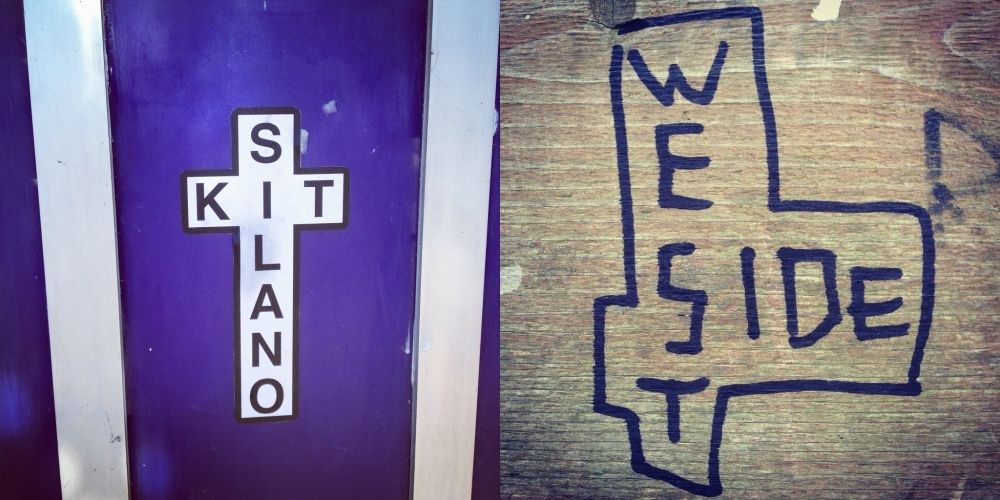 It looks like West Van and Kitsilano want in on some of East Vancouver's street cred. After Stephen Hui of the 
Georgia Straight 
brought our attention to 
these versions of the iconic East Van Cross
 going up on the Westside, we got to thinking about other symbols and images that make our ever-changing city distinct and how they're also continuously being reworked and redefined. Join us this week for a little exploration of the Vancouver Special, the possible addition of bike paths to two major Vancouver landmarks, an effort to battle the city's lonely image, and finally a report on the growing popularity of a very West Coast lifestyle choice: midwife assisted births. 
Vancouver Chic.
 It looks like our boxy, bland Vancouver Specials might just be well-built enough (and big enough) to be part of the next trend in high-end housing. Often derided for their clunky design, builders like Jonathan Kerridge and Jason Hagemeister see potential in the sturdy structures that became ubiquitous in the city starting in the 50s and 60s. With renovations such as the addition of cedar, skylights, and a yoga room, they have put their most recent converted Vancouver Special up for sale at an asking price of over a million dollars. As Kerridge points out in 
this Globe and Mail piece
 "We think there is a lot of opportunity to revitalize these homes. Most of the time, they are in original condition. It's almost like the demographic is such that they just bought them and didn't do anything to them."
Bridging the Bike Gap. 
One of our best known landmarks, the Granville Street Bridge, might also see a major transformation in the coming years. The bridge could see its two centre lanes converted into a "greenway" or shared space for pedestrians and cyclists depending on the response to a recent feasibility study. The proposal also envisions an expanded bike lane for the Cambie Bridge connecting downtown to the 2nd Avenue off ramp. But as 
OpenFile explains
 any major decisions on the proposal will likely be years away. Until then, we'll have our fingers crossed. 
The "Make New Friends" Task Force.
As Francis Bula reports on her blog
 a new task force has just been announced at the Mayor's office. The focus? Fostering community building and interpersonal relationships in our neighbourhoods. Partly in response to the recent 
Vancouver Foundation findings on social isolation
 the task force will "identify ways to increase neighbourhood engagement and improve the ways in which the City interacts and connects with its residents." Very excited to see what this group comes up with over the next year. And while we're on the subject, we'd like to know your own thoughts and ideas around this. Shoot us your comments in the section below!
BC Baby Catchers. 
In their recent piece on BC midwives, 
The Tyee explains
 the rise in popularity of midwife assisted births:
"...Like all things local, organic and 
au naturel
, midwives are now being embraced by a new generation of parents." In fact, UBC's midwife school, one of only seven programs in Canada, will double its enrolment capacity in the next five years. But the story is not as simple as an easy growth in numbers to meet the demand for the kind of one-on-one, personalized birth planning that midwives can provide; those in the profession still think they could be assisting with more births and for those living outside BC's major cities access to midwives is severely limited. The good news? Efforts are being made by the Midwives Association of BC to increase incentives and benefits for rural practitioners. And there are hopes that midwife students who do rural practicum placements will end up staying where there is greater need. 
At the MOVeum: