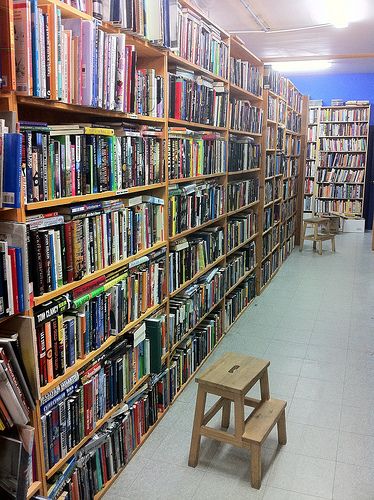 This week we look at the economic realities and struggles of big business, small business, and "anti-business." From the uncertain fate of the The Centre in Vancouver for Performing Arts, to the changing landscape of independent bookstores in the city, and the meta-reality of the DTES anti-gentrification conflicts, we're exploring what it means to survive and succeed in Vancouver's economic wilderness.
Saving The Centre.
 Many in Vancouver's arts and culture scene are looking to the City to step in to 
save The Centre in Vancouver for Performing Arts
. The Centre is set to be sold to the Westside Church after struggling with economically viable programming as a large-scale venue. Will The Centre survive as an art space? We'll have to wait to find out.
Struggling to Sell Books. 
Francis Bula explores the economic ups and downs of Vancouver's best-loved independent bookstores of the past and present in this 
recent article
. Some of the culprits behind slumping sales are easy to identify - the rise of e-commerce to name one - but others are more surprising (and more Vancouver-specific). She also examines stores like Kidsbooks and Pulpfiction Books that are surviving 
and
 thriving against some pretty bleak odds.
Reality TV Gets Real. 
Did the reality presented in the television show Gastown Gamble contribute to the current anti-gentrification protests in the DTES? 
Llewellyn Hinkes-Jones of The Atlantic Cities seems to think so
. The show follows Mark Brand's journey as the socially-conscious owner of Save on Meats. As Hinkes-Jones says, "For many of the at-risk locals whom Brand has hired, he's a legitimate hero. But there's also little doubt the show's subject — the renovation of a historic Downtown Eastside business to make it more appealing to upscale customers — is exactly the sort of effort that's caused much of the distrust among the protesters."
And On a Not Entirely Related Note
...it's 
Bike to Work Week
! Check out this 
neat initiative
 co-produced by Vancouver is Awesome with Penny Smash funds. Definitely some of the most fun you'll have getting to work in the morning.