walkable
Posted by:

Anna Wilkinson

on

August 27, 2012 / 10:54 PM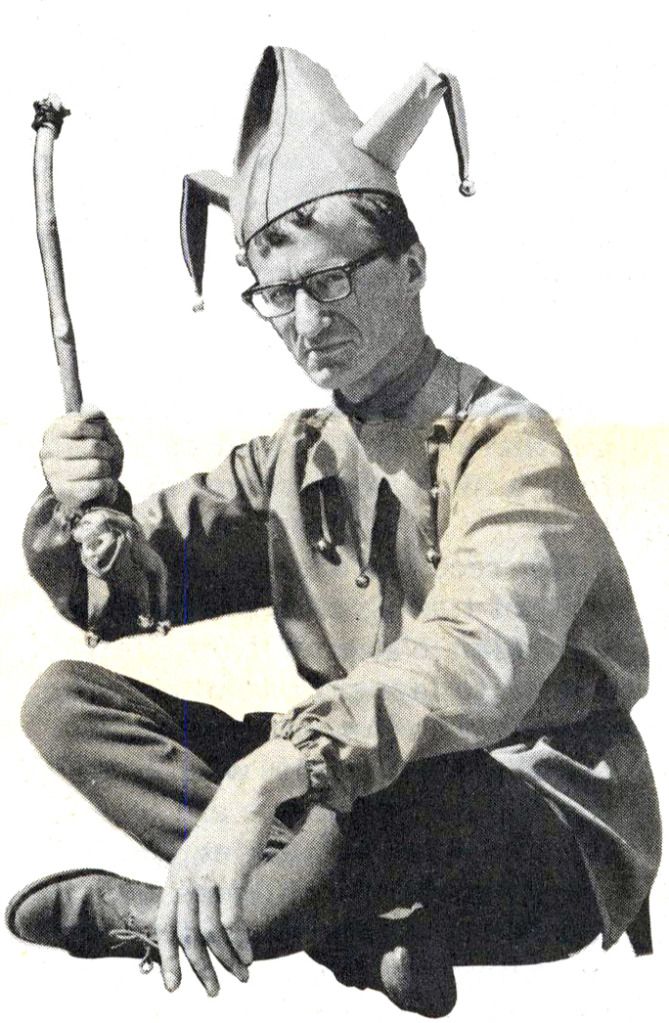 For this week's installment of MOVments we set out to keep things light, offering some "fun facts" to keep you entertained during the last wee bit of summer. However, as with most MOVments, we got a little serious in spite of ourselves. Read on for the latest on playing in Vancouver (for a good cause), strolling around the city (and the problems that go along with it), and the story of our very own Vancouver Town Fool (who, it turns out, had a pretty serious mission).
(Not Just) Playing Around. Some of us MOVers have had a chance to make it out the PNE this summer and as always, it's a guaranteed sensory overload experience. But if you can slow down and take a little break from eating deep-fried oreos,Canfor's Playhouse Challenge is well worth checking out. Each of the seven playhouses on display uses local forest products and is designed by a renowned architectural firm. Kids are encouraged to interact and engage with the playful designs (think beehive shapes and pirate ships) before they're auctioned off at the beginning of September to raise money for Habitat for Humanity. 
Vancouver on Its Feet. Frommer's travel website calls Vancouver one of the most walkable cities in the world, noting Stanley Park, False Creek, and Granville Island as particularly idyllic areas to meander through. However, as Carl Funk argues in his recent report entitled "Walkability of transit-oriented development: Evaluating the pedestrian environment of Metro Vancouver's Regional City Centres" there are definitely things we could be doing better in the pedestrian-accessibility department. As Nathan Pachal summarizes on the Civic Surrey blog, more could be done to widen sidewalks, create segregated bike paths, add connecting streets, and install street furniture at transit hubs like Metrotown and Surrey City Centre. 
Foolish City. And finally, this week The Dependent (by way of the The Tyee) brings us the fascinating story of Joachim Foikis, who, upon receiving Canada Council funding, became Vancouver's "Town Fool" in 1968. Playing with the traditions from Medieval Europe and other cultures, Foikis, dressed in a jester's costume and proceeded to publicly poke fun at social norms and governmental institutions at the time. As The Dependent's Jesse Donaldson describes, "For three years -- starting with his "coming out" at the city's 1967 Canadian Centennial Celebrations (where he was threatened with a knife by a sailor who thought he was a communist) -- he played the Fool, promoting discussion, drawing ire, and promulgating joy, before vanishing just as abruptly as he'd appeared." Despite his playfulness, Foikis' intentions were serious; by making fun of the "rat race" and concepts of social status, he forced observers to re-examine their own civic expectations and assumptions. Great piece, seriously worth a read.
At the MOVeum: 
September 13 - Art Deco Chic: Talk & Tour with Ivan Sayers | Design Challenge Winners Panel 
September 19 - Opening Night - Object(ing): The art/design of Tobias Wong 
September 20 - Built City @MOV: Urban Evolution, Retold 
[Image: Joachim Foikis as the Town Fool. Courtesy of the Vancouver Public Library]
Posted by:

Hanna Cho

on

March 23, 2011 / 3:04 PM
On a bright and sunny Saturday morning in February, 75 Moving Through participants embarked on one of three architectural walking tours organized by MOV, as part of a multidisciplinary exploration of Vancouver's built environment, called "This is Not an Architectural Speaker's Series". As some of you know, the groups were completely full, so not everyone was able to join. The good news is, we recorded each walk, and the podcasts are now available for listening and download!
Listen: Moving Through Podcasts
Three concurrent walks and groups set out from Stadium/Chinatown Skytrain, Commercial/6th, and King Edward Stations, and joined together for lunch and an all-group Q&A and wrap-up session lead by Gordon Price at SFU Woodwards. Our intrepid guides report:
Mini-Walk A: The Path(s) Not Taken: Viaducts, Expressways, and Almost Vancouvers.
(*Guides: Vancouver Public Space Network, Michael Green, mgb architecture)
Most Vancouverites rarely spend any time in the parking lot across from Rogers Arena, but standing there looking up at the Georgia and Dunsmuir viaducts, it is easy to feel like you've been transported to the overpass wasteland more typical of LA or Detroit.
Demian Rueter and Brandon Yan, transportation coordinators from the Vancouver Public Space Network and Michael Green of mgb architecture have thought a lot about these overpasses and about what could have been if the downtown freeway started in the early 1970s had been completed. Walking through Gastown, it is easy to see what would have been lost. The European style streetscape that was jeered for so long as a tourist trap left behind by Expo 86 has become in recent years a dependably fun spot for a night out and home to some of the city's best restaurants. If the freeway had been built, not only would this be lost, but also large chunks of Strathcona and Chinatown. By passionately opposing this plan, the residents of these neighbourhoods prevented this plan from occurring. A widely forgotten casualty of the project was Hogan's Alley, the neighbourhood Vancouver's Black community called home.
When we start to think about these great neighbourhoods surrounding the viaducts, it's easy to imagine that parking lot becoming something really exciting if the viaducts were to come down.
Mini-Walk B: Speed and the Shape of the City: Vancouver's Evolving Transitscapes
(*Guides: Andrew Curran/Translink & Graham McGarva, VIA Architecture)
Graham McCarva sees transit stations differently than most people. Graham was the lead architect behind Commercial/Broadway station, it is informative to walk with him through the station and surrounding neighbourhood. "A subway station is a place to buy flowers," he told us, a place where everyone should feel comfortable walking past at any hour. This idea informed the of this station, which responded to neighbourhood concerns of unsavoury characters commanding the intersection. Previously the location of the busiest pay phone in the region, it is now home to the busiest Shopper's Drug Mart. The main action on the Drive used to be north of 1st Ave, but since the station was renovated the neighbourhood has grown right down to 12th Ave.
Andrew Curran, senior planner at Translink, introduced the concept of Marchetti's Constant, and helped put the station into historical perspective, explaining that this, the highest traffic station in the system, serves the same function as did the former streetcar station (now a post office) at 6th and Commercial. Like the streetcar station before it, Commercial/Broadway Station connects two suburban lines to lines bound for Downtown (and UBC), moving thousands of people each day.
Andrew and Graham sparked many questions among the group, making the ride to SFU Woodwards a lively one. We were better able to see the role that transit has played in the development of the lower mainland, and puzzle over the role that the Canada Line and other future lines will play in the area's ongoing growth.
Mini-Walk C: Evolution in Station-Area Planning the Cambie Corridor
(*Guides: Jim Bailey, City of Vancouver & Peeroj Thakre, pH5 architecture & Urban Republic Arts Society)
Tucked beneath the streets at King Edward Skytrain station, Jim Bailey, senior planner for the City of Vancouver's Cambie Corridor Station Area Planning project, led us through an engaging discussion about this interesting, and perhaps under-discussed area of Vancouver. Ranging from the Cambie Village to Marine Drive, Bailey divides the area into 5 Precincts, suggesting each has room for development of a unique character and livelihood. However, while single family homes are currently at a market value of $1.5million near King Ed station, it is clear that increased density will be necessary for more affordable living situations. As we walked through the laneways surrounding the station, Peeroj and Jim discussed with the group, how optimizing transit, cycling, and walking opportunities, as well as increasing public amenities, and opportunities for community engagement will be key for the future of the Cambie Corridor.
See the Moving Through photoset here.